Have the UTV at your event!
Want to be Unique? Want to give back to Georgia Tech? Then partner up with the GTUTV! The GTUTV is available to use for corporate events and outings. Whether you are planning a company retreat, picnic, tailgate, or on-site retail promotion, the UTV can make it a success. Better yet, a portion of each appearance fee is donated back to the Georgia Tech Alexander Thorpe Scholarship Fund!
The GTUTV is a 40 ft long Blue Bird school bus that has been completely converted into the Ultimate Tailgating Vehicle, or "UTV". The UTV has a raised roof, large outdoor deck, and "pub" style interior, completely trimmed in fine woods. Amenities include three satellite televisions, sound system, draft beer refrigeration for beverages, and a large amount of Georgia Tech memorabilia. Powered by generators or standard electrical outlets, the UTV can fit any need at any location.
The UTV is perfect for all types of events, including:
Company Picnic
Sporting Event Tailgates
Company Retreats
Retail On-Site Promotions (especially when teamed up with 790 The Zone)
Private Parties
Any event you want to be totally unique!
When you utilize the UTV, we can take care of all the details. We will have our driver deliver the GTUTV to the location of your choice and set up the UTV. Set-up includes leveling the deck, aligning the satellite, and preparing the interior of the UTV for your usage.
Also we can provide beverages, food, corporate signage, giveaways, and live entertainment. With relationships already in place, we can secure singing acts, bands, and even radio personalities from stations like 790 The Zone, the official sports talk radio station of Georgia Tech.
While no two events are the same, the GTUTV has a standard appearance fee. This fee covers three hours of usage, the driver to deliver and pick-up the GTUTV, setup of the GTUTV, gas for generators, and a donation to the Alexander Thorpe Fund. The standard fee is $495.00 per event. Additional usage time or items such as beverages, food, entertainment, radio personalities,and other additional items or services will require a free quote.
Please contact Crescent Marketing, the official marketing company of the GTUTV, for further information or events@gtutv.com.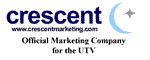 Crescent Marketing